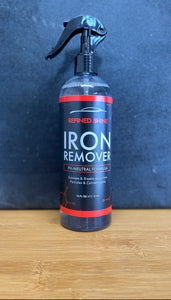 Introducing Refined Shine Iron Remover!
Iron Remover to extract environmental metallic contaminants that build up in vehicle paint & wheels over time and prep for additional paint maintenance
Features and Benefits:
Removes metallic contaminants from paint, rims/wheels
Perfect for paint corrections and surface maintenance

Product Application:
Wash vehicle first to prep the surface. After washing, make sure the surface is cool. Shake bottle well. Spray directly onto the surface. Using a damp sponge or microfiber towel, spread the solution across the area(s) you're working on. Wait 4-5 minutes after applying. You will notice the Iron Remover changing colors to a deep purple/red as it works to remove metallic contaminants. Wipe off using a clean damp wash mitt or microfiber towel. Rinse off using clean water. The vehicle is now ready to clay.
**Mask and/or respirator is recommended
**Use of latex gloves is recommended
**Use of eye protection is recommended